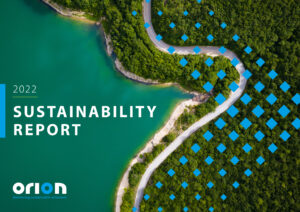 HOUSTON – Orion S.A. (NYSE: OEC), a global specialty chemicals company, today released its 2022 Sustainability Report that highlights a variety of initiatives, including launching four new sustainable products, conducting a Scope 3 greenhouse gas emissions inventory and nearing the completion of a massive air emissions control project.
The report's "CEO Letter to Stakeholders" describes the magnitude, complexity and impact of the air emissions control initiative that started five years ago and is the biggest sustainability-linked project in Orion's history. The company will fulfill its commitments before several competitors despite that it has more production sites in the U.S.
"All of us at Orion can look back at the past five years and feel an extreme amount of pride," Orion CEO Corning Painter said. "We stayed committed during intensely trying times and honored our agreement to make our facilities cleaner, leading to a big impact for the environment and health in our communities."
A decade ago, Orion was the first major producer to develop and commercialize carbon black made from renewable feedstocks. The 2022 Sustainability Report covers how the company continues to be a leading innovator, launching four sustainable products last year for the rubber industry: ECORAX® Circular 210, 215, 220 and ECORAX® Nature 200.
"Supplying the growing demand for sustainable products and accelerating the transition to a circular economy are key components of our strategy," Painter said. "Orion as well as our customers are serious about making their raw materials fully sustainable. So we are heavily engaged in this area and work closely with our customers to develop solutions."
Another 2022 sustainability milestone at Orion involved implementing a Scope 3 greenhouse gas emissions inventory, which allows the company to develop a better understanding of the type of initiatives that would help reduce these emissions.
Scope 3 emissions – those produced by Orion's value chain partners – currently account for less than 40% of the total of Orion's greenhouse gas emissions. Thus, in parallel to reducing Scope 3 emissions together with value chain partners, the company continues to focus on the sources of greenhouse gas emissions that it can directly influence, such as Scope 1 and 2 emissions.
Download a PDF version of the report from the Sustainability page of Orion's website.
About Orion S.A.
Orion S.A. (NYSE: OEC) is a leading global supplier of carbon black, a solid form of carbon produced as powder or pellets. The material is made to customers' exacting specifications for tires, coatings, ink, batteries, plastics and numerous other specialty, high-performance applications. Carbon black is used to tint, colorize, provide reinforcement, conduct electricity, increase durability and add UV protection. Orion has four innovation centers, and produces carbon black at 15 plants worldwide, offering the most diverse variety of production processes in the industry. The company's corporate lineage goes back more than 160 years to Germany, where it operates the world's longest-running carbon black plant. Orion is a leading innovator, applying a deep understanding of customers' needs to deliver sustainable solutions. For more information, please visit orioncarbons.com. 
Forward-Looking Statements
This document contains certain forward-looking statements within the meaning of the U.S. Private Securities Litigation Reform Act of 1995. Forward-looking statements are statements of future expectations that are based on current expectations and assumptions and involve known and unknown risks and uncertainties that could cause actual results, performance or events to differ materially from those expressed or implied in these statements. You should not place undue reliance on forward-looking statements. Each forward-looking statement speaks only as of the date of the particular statement. New risk factors and uncertainties emerge from time to time and it is not possible to predict all risk factors and uncertainties, nor can we assess the extent to which any factor, or combination of factors, may cause actual results to differ materially from those contained in any forward-looking statements. We undertake no obligation to publicly update or revise any forward-looking statement as a result of new information, future events or other information, other than as required by applicable law.
Contacts:
William Foreman
Director of Corporate Communications and
Government Affairs
Orion S.A.
Direct: +1 832-445-3305
Mobile: +1 281-889-7833
william.foreman@orioncarbons.com
Wendy Wilson
Head of Investor Relations
Orion S.A.
Direct: +1 281-974-0155